The rapid shift towards electric cars and autonomous driving is putting companies in the automotive sector into a predicament. Car manufacturers and suppliers must develop innovative products and invest in new technologies such as CASE. According to the consulting firm AlixPartners, the industry's announced spending on electrification between 2019 and 2023 will amount to around 225 billion dollars.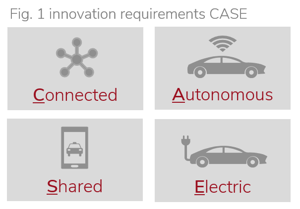 ZF must also invest in the future. The German automotive group secured a major order from Mercedes for all of its new EQ electric car line models. According to a report published by the German business journal "Handelsblatt" (only available in German), this major order comprises the entire drive system: From the motor to the single speed transmission including the differential gear, power electronics and control software. Despite the positive outlook, ZF must still face the consequences of the downward trend in sales just like many other suppliers and OEMs. German car magazine "Automobilwoche" recently published an article with the following headline: "Bleak Outlook for the Automotive Industry: Study predicts drastic margin cuts" (only available in German). The necessary investments and weak sales growth are squeezing margins and cash flow.
US car sales are expected to drop by anywhere between nine and 15 percent by 2021. A five to ten percent decline in revenues is anticipated for Europe by 2021.
Quelle: Boston Consulting Group


The mobility transition hangs over ZF and other suppliers like the sword of Damocles. Sales from core business with combustion engines have dissipated. This makes it difficult to invest in the innovations needed to successfully navigate the transition. The situation is also tense at Bosch. According to a report published by "Handelsblatt" (only available in German), the pioneer in the field of autonomous driving has had to scrap plans at its Bamberg location due to a lack of orders and an inability to keep employees working at full capacity.
Fig. 2: Top 10 companies for autonomous driving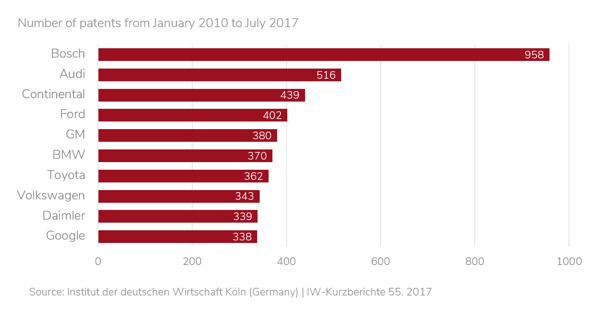 The mobility transition has already made an impact at MAHLE. The company will have to close its Öhringen plant, which manufactures air management systems for combustion engines, due to mounting price pressure and the location's bleak outlook.
Price pressure is the catchphrase in these turbulent times. This is because suppliers in particular must be able to calculate the very high development costs associated with the mobility transition quickly, reliably and early on, while bringing products that promise the most profit to the market in ever shorter innovation cycles.
Developing product innovations much more quickly
The technologies associated with CASE alone are accelerating development. Digitization is shortening product life cycles and innovation cycles along with them. The latest technologies are finding their way into cars and it is often unclear how long these products will even last.
Fig. 3: Product lifecycle - comparison of business model traditional vs. digital


Source: "Automobilindustrie" (German Magazine) | special edition June 2019
Manufacturers are under pressure to take steps to drastically reduce product development times. While greenfield electric vehicle production is less complex than manufacturing combustion engine models, suppliers must work to answer entirely new questions when it comes to electric cars. In addition to the drive, topics such as thermal management are becoming increasingly complex. New, efficient alternatives are needed as there is no longer a combustion engine to generate heat and act as a drive to cool the vehicle. Cooling systems for batteries and power electronics are subject to a wide range of influences, including weather conditions. Demands on air conditioning systems are rising because batteries and electronics also require cooling. Since these cars need variable modes, both the heating system and its controls are quite complex. The heater must work even when the car is idle in a traffic jam. This drains the battery. But the car must still be able to reach its intended destination, even with this extra strain.
How do suppliers ensure that new products are profitable right form the start?
The mobility transition pairs the pressure to innovate with tremendous cost pressure. According to an analysis by the auditing firm Ernst & Young, investments in electromobility have risen sharply among the leading 16 automotive groups.
Fig 4. Number and value of all of the Investments made by the world's 16 largest automobile companies in the area of e-mobility (2015-2018)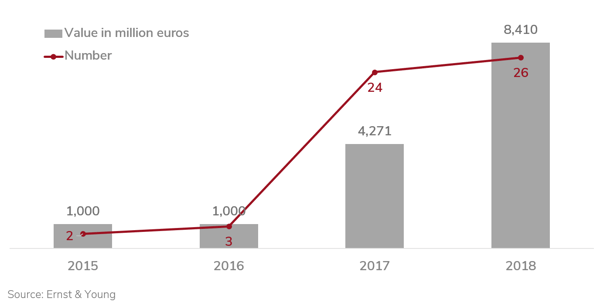 Suppliers are facing a "productivity crunch". They can relieve the pressure by reflecting on product properties not only in terms of functionality but also with an eye towards the corresponding costs in the early stages of product development.
How can businesses produce products quickly and profitably?
The cornerstone for optimum material and resource efficiency is set in the early stage of development. Alongside expertise from different areas of the company, integrated and fully digitized tools are needed to keep up with the rapid pace by stepping up automation. Design costing solutions blend process planning with production organization. Interfaces to third-party systems such as CAD, PLM or ERP make it possible to use an extensive database for production planning.
Which properties should digital tools offer for costing?
Global data available in real time in a single source of truth to form a valid basis for calculating product structure costs throughout the brief life cycle.
Integrated interfaces to third-party systems to ensure that data that is valid throughout the enterprise is used for production planning and that processes can be fully automated. It is much more efficient to use an engineering BOM (eBOM) directly from PLM for costing.
Collaboration in production is required:



The time to market is shortened significantly when the product development team works together on a single platform. This eliminates the need for additional development loops and multi-stage coordination and control processes.
Clearly defined tasks and mechanisms such as change tracking or version management simplify collaboration and communication across different teams.
Structured exchange with partners and customers across a common platform makes it possible to jointly develop profitable products in collaborative projects or joint ventures.
---
Find out in our webinar series how to determine product costs early on, how to identify cost drivers and how to define cost avoidance and cost reduction measures.

---

If continuous data availability and automated processes are not supported in product development, this not only prevents businesses from obtaining a view of the true product costs, but also the total costs within the enterprise. Key performance indicators (KPIs) are weakened, also due to the fact that there is no consistent view of the product life cycle. A fully integrated solution increases the precision and reliability of cost accounting and ensures products are market ready faster. The profitability of innovative products can be secured right from the start no matter what challenges the mobility transition may create.
---


READ ALSO
New mobility: Why OEMs benefit from life cycle costing