Ensuring profitability based on optimal capacity planning in production
In the context of corporate management, opportunities and risks of new investments in productions, project plans and offers must be known at all times in order to be able to estimate financial consequences. Cost analyses and simulations can be used to capture uncertainties in production over a longer planning horizon.
In order to reliably evaluate production costs, profitability and demand planning, different assumptions are used and scenarios are developed. Decision-relevant information becomes visible and flows into financial planning and corporate management.
Read the white paper to learn how to reliably plan projects and productions.
Use of scenario analyses for cost assessment
Conditions for reliable cost analyses
Project review with cost data distributed throughout the enterprise
Preparing project decisions quickly and reliably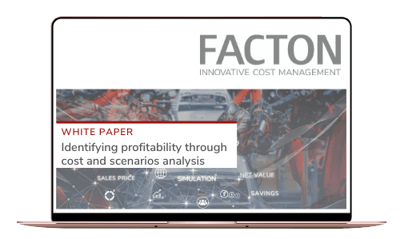 Find out how cost and scenario analyses are quickly performed with Enterprise Product Costing, and how product and project costs are calculated with a high degree of cost transparency.
To access the free white paper, please complete and submit the form on this page.