Download our free white paper Should Costing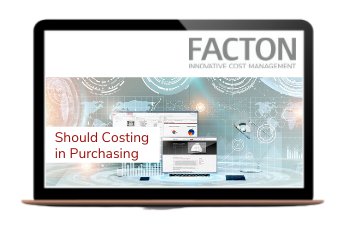 For successful negotiation results in purchasing, cost engineering teams must be able to comprehensibly determine and quickly analyze cost structures of purchased components from suppliers.
Identify potential savings in purchasing more quickly
Learn in our white paper how buyers can quickly understand supplier cost structures and get the best price for purchased parts.
White paper Should Costing - Contents at a glance
Targeted value creation in a complex environment
Reasons why cost targets are often not achieved
Should Costing as part of Enterprise Product Costing
Valid data as a basis for costing in purchasing
Use uniform and realistic cost models
Target price calculation across the product levels
Coordinate cost reduction measures in the team

Should Costing is used as an important component to increase the value added share in the company. To access the free white paper, please complete and submit the form on this page. Next, you can open the PDF in your browser and read and download it.