Download free white paper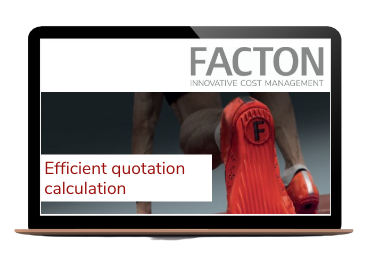 Quotation costing determines whether customer projects are won and whether they remain profitable over the duration of the project after being awarded. Direct access to project and cost data and the documented course of the quotation history accelerate the preparation of quotations, and promote cost transparency.
Quotations: Fast and reliable costing as a team
Read our white paper to learn how Enterprise Product Costing (EPC) helps project teams with quotation costing.
From inquiry to quotation: Costing in an interdisciplinary team
Key functions in the quotation process
Check the profitability of quotations reliably
Provide cost analysis and reporting in the team
Complete open book accounting quickly and conscientiously
Track cost development easily in the quotation history

Read also how the quotation process can be implemented in a time-saving manner by automatically filling in external cost breakdown forms.
To access the free white paper, please complete and submit the form on this page. Next, you can open and download the PDF file in your browser.