Understanding cost structures and negotiating at eye level with suppliers
How can companies ensure they are paying the best price for the best quality? With Should Costing, purchasing teams are able to break down supplier prices, conduct detailed cost analyses, and quickly compare prices.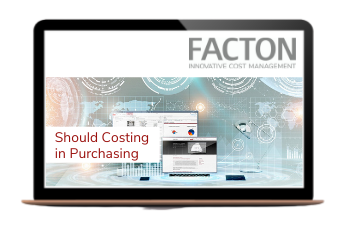 Our webinar video show how the following questions can be answered reliably:
Which prices are justified for purchased parts?

Which manufacturing or cycle times are plausible for a certain manufacturing process?

Which hourly rates for workers or overhead rates are usual for an industry?



To access the free webinar video, please complete and submit the form on this page. Next, you can view and download the webinar on demand in your browser.
---
FACTON EPC Should Costing is a tool for more cost transparency with integrated benchmark data and technology models. The tool supports detailed cost analyses for purchased parts. Buyers and cost engineers are able to negotiate at eye level and identify potential savings together with their suppliers..