"Quality has its price!"
German mechanical engineering and plant construction companies were once able to make this claim to justify prices with the "Made in Germany" label. Today, price discussions of this sort are no longer viable. Increasing global competition – especially from inexpensive, technology-driven Asian competitors (article only available in German) – is changing the market environment. Companies are only fit to compete if they have a handle on costs – understand them precisely, control and optimize them continuously.
Consistent cost calculation is the key to comprehensive analysis and control of product costs.
Consistent cost calculation can be achieved using an enterprise-wide cost management method such as Enterprise Product Costing (EPC), implemented with corresponding software solutions. EPC solutions consolidate all of a company's cost-related information into a single application. Interfaces to existing business IT systems – such as ERP, PLM or CAD – help update and manage data automatically in a centralized cost database.
The obvious advantage: It is no longer necessary to search for and/or manually transfer the relevant data. This saves time and creates a valid body of data. At the same time, all of a company's departments and locations can perform costing using the latest standardized data. The same standardized methods and processes are always used in the enterprise-wide application.


What is the best way to analyze, control and continuously optimize product cost?
Precise cost analysis instead of "rough" estimates
From machine tools to wind turbines, mechanical engineering and plant construction products might be large, but when it comes to costs even the smallest of components can make a difference. Estimates will not help in these instances. The only way to achieve the necessary clarity is to look at each part in a bill of materials (BOM).
However, BOMs are rarely used in product costing. Many companies lack the necessary resources, valid cost information and a suitable solution. This generally results in cost analysis of only a small portion of a product's components – leaving valuable optimization potential unrecognized and unexploited. In practical applications, for instance, new components are estimated based on experience, historic data or similarities and not on the basis of current cost data. For example, if a company knows the price of a 500-liter container, the costs for a larger container are extrapolated on a linear basis. In this scenario, a 1,000-liter container would cost twice as much. Is this really the case? When imprecise or even erroneous information accumulates in this way over time, it can, in the worst case, result in serious miscalculations.
Detailed product cost analysis for more cost transparency
A company that works with an innovative costing solution is able to simply split product costs into their individual components – this makes putting them together transparent and easy to understand. It also enables fast, manufacturer-specific calculation of the product/ manufacturing costs of components. Specific information such as location-dependent basic data, machine, wage and salary data and overheads are all directly available via the central database. Search masks and filter functions offer quick orientation despite the high volume of data. If search queries are used more frequently or are very complex, they can also be saved in search folders. This makes finding the data needed for cost calculation much faster: The query is only defined once and the search can be performed multiple times with a single click.
Learn about the possibilities of a modern cost management strategy in our webinar on demand "Enterprise Product Cost Management - Seven Ways to Success".

Secure knowledge for process time calculation and evaluation
Retaining knowledge is another important issue for mechanical engineering and plant construction companies – employee turnover and the high demand for specialists can quickly lead to a loss of essential knowledge or "brain drain", which is often very difficult and costly to replace. If this sensitive technical knowledge – such as process time calculation and evaluation – is kept within the company through the use of technology, then it is no longer dependent on specific people. This gives businesses a considerable edge over their competitors. A freely programmable technology mode can be used for process time calculation and evaluation. Modern costing solutions provide overviews for a wide range of manufacturing and assembly technologies that include all the necessary costing parameters for a specific process. This enables parameter-based calculation and analysis of manufacturing and additional processes. The advantage of freely programmable models: They are transparent and can be adapted to meet company-specific requirements. Special manufacturing processes are individually configured and also saved as proprietary knowledge databases. Then only the hourly rates for machine and labor costs or the cost center must be added in order to evaluate the operation.
Easy management of variants

– even when the number of units = 1
Mechanical engineering and plant construction companies are all too familiar with the challenge of single-unit production. They often use a modular approach in order to achieve cost advantages: Functional components that can be assembled over and over again to meet new customer or country-specific design requirements are used to produce small series and prototypes more inexpensively. Series production of these modules offers cheaper unit costs, thereby lowering the overall component cost.
This modular principle demands flexible, reliable variant management in order to quickly and easily calculate and analyze individual product variants. Existing calculations are copied along with all of their variants, adapted to the new requirements and automatically re-saved. Important information from the basis for calculation cannot be inadvertently overwritten by the newly generated cost calculation – this means the data remains secure.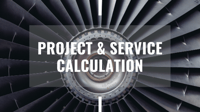 Are service and maintenance the new sales drivers in mechanical and plant engineering? Sure, if risks and contract periods are correctly calculated. ⇒ Click here to learn more about service calculation.
Cost calculations no longer need to start with an empty spreadsheet: Integrating maximum bills of materials into a costing solution speeds up customer-specific configurations – for entire drive or dimension variants, for instance. This can also be used to draft proposals. For example, sales can quickly calculate functional variants without having to ask a cost specialist for assistance by simply choosing the desired features from a list. Economy is further improved when the system offers features for documenting and commenting on changes. This enables users to follow a calculation's development at any time and see who made changes when and why. Active cost control
The current market environment has long demanded proactive cost management (article only available in German) from mechanical engineering and plant construction companies. The objective is to identify cost drivers early on in the development process and find more affordable alternatives such as different manufacturing methods and locations. Companies that can create a solid cost calculation as early as the development phase and proactively monitor it throughout the entire product lifecycle ensure their projects always remain profitable. The idea is to simulate and analyze influences on costs such as surcharges, currency fluctuations and expected fees throughout the entire product life cycle. This is the only way to secure target margins and required profits – from the first to the last machine type that leaves the production line.
"Quality has its price" – still rings true today.
However, mechanical engineering and plant construction companies can only successfully balance quality and costs if they are able to break down the costs of even the smallest part for all of their products. A software-based costing solution facilitates this process and helps businesses quickly and efficiently achieve cost optimization and proactive cost control. Modern software solutions optimally visualize and capture issues that impact cost calculation such as brain drain, calculating with the smallest possible lot sizes or evolving costs throughout the product lifecycle.
---
As an expert in the field of filtration, Mann+Hummel decides for fast and reliable product costing with FACTON EPC.