At this year's Cost Smarter & North America User Conference I talked about "Enterprise Product Costing Beyond the Product" in my keynote speech. We have so far addressed traditional, physical product costs with our EPC-Suite. "Beyond the Product" increasingly addresses the transformation of our customers' industries.
Companies are facing two key trends which will permanently change sales growth, product profitability and the organizational structures of companies in general: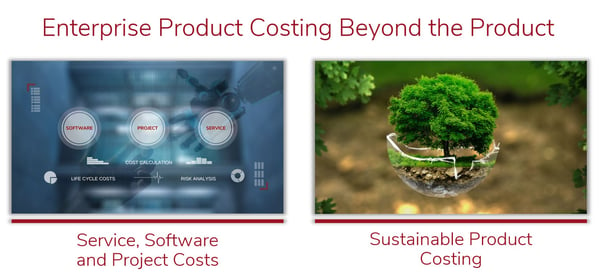 1)Service and software costs influence sales and profitability considerably. 2) Sustainability: Companies already assume responsibility for climate-neutral production processes. They calculate sustainable production processes for sustainable profits.
Service and software costs: Gaining more reliability in corporate planning
Embedded software is clear proof of the increasing significance of immaterial components in products. The amount of software which is used in all types of products is rising constantly.
>> Experts at Berylls Strategy Advisors estimate that automobile manufacturers will be spending 40 billion Euro for software development by 2030 (Source in German). <<
In a joint analysis, Strategy&, McKinsey, IPlytics and ZVEI have determined the sales forecasts of the global automotive industry in the area of software and services for the next ten years (2020-2030) (source: German Magazine "Produktion" 1/2020). The sales growth of software is cumulatively 150%, the growth with software related services is 162%. This clearly exceeds the growth rate of the entire automotive industry.
In other words: The percentage of immaterial components in products will continue to grow – at the expense of material components. This means we will have to manage costs a lot more closely than in the past on the one hand while, on the other hand, the pressure to further reduce costs for physical parts will increase considerably. On account of ever shorter development cycles and continuously high cost pressures this separate assessment of every individual cost element can no longer be profitable.
---
Enterprise Product Costing Beyond the Product: Watch FACTON CEO Alexander M. Swoboda's presentation at Cost Smarter | North America User Conference 2020 in full here.
---
Costs for software and services are the black box in product costing
Today, cost engineering teams are very successful in accurately evaluating costs of manufacturing processes in collaborative work. However, software and services are not clearly visible in the bill of materials. The established routines for cost calculation and pricing cannot be transferred 1:1 to software products.

Why is it so complex to calculate software costs? There is a lack of empirical values to penetrate software products, standardized procedures for cost allocation according to cause, and transparent structures for a global process. This leads to disadvantages both in planning own projects and in cost negotiations with external providers - with negative effects on margins and on profitability. Experts from the consulting firm McKinsey estimate that manufacturers generally pay too much for code when it comes to software: The gap is 10 to 30 percent - between the quoted costs and the target costs.
>> Software costs cannot be measured as a value per unit. Cost elements such as lines of code cannot simply be analyzed and assigned to cost items per unit. <<
The calculation of service costs will lead to similar challenges. Many types of services exist: development, prototyping and start-up costs have always been important. They were often entered into the accounts as a total amount in the past. As the R&D budget is increasing constantly, this is no longer good enough. Support, maintenance, and repair costs throughout the lifecycle of a product are assessed from a TCO perspective.
Capture lifecycle costs and increase the profitability of services and software
In summary, there are three points that make the costing of non-physical products difficult:
No reliable planning for project and service costs before the project starts.
A lack of learning processes leads to mistakes being repeated. Budgets are exceeded faster.
A lack of transparency prevents customers and decision makers from taking decisions.
Complex cost structures and different pricing strategies make it more difficult to calculate project and service costs for an offer over the term or to check them in purchasing.
>> To ensure profitability, cost engineering teams must be able to calculate services rendered throughout the term of contract exactly and be able to understand interdependencies, e.g., in long-term contracts for services or the purchase of software production. <<
---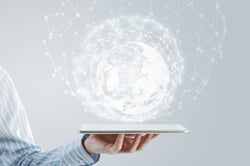 Three tips for cost engineers on how to calculate service and software costs reliably.
1) Use transparent cost structures to break down personnel costs, material costs, services rendered by subcontractors as well as operating and capital expenditure according to each element of the project structure plan.

2) Analyze profitability reliably: A simple modelling approach can support the development of different pricing scenarios. In order to make the right decisions, you need to calculate the business case - based on the assumptions made - in real time over the entire lifecycle and ideally implement everything in one cash flow. This ensures a permanent focus on the profitability of the project.

3) Ensure all expertise on a global level: Ensure all commercial and technical risks are documented and quantified centrally. Awarding profitable service contracts and avoiding the purchase of overpriced services requires a high degree of cooperation within the company.
---
Why it is necessary in costing to take the sustainability of production processes and products into account
We see close links for a digital and sustainable transformation of our industries - both aspects are connected. Forbes magazine recently published ten reasons why sustainability must be a strategic part of digital transformation.

While industry is not the largest emitter of greenhouse gases, it is the sector whose emissions have grown the fastest in recent years. Pressure to reduce emissions will grow. In addition, further regulatory requirements can be expected, such as those already in place today for greenhouse gas emissions from the use of products, e.g., cars.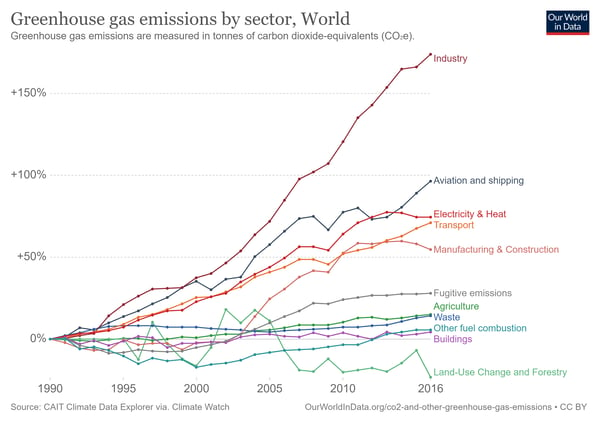 Measures for sustainable production affect the entire manufacturing industry
More and more companies are announcing their own climate targets, are already producing in a climate-neutral manner, must comply with customer requirements - and some are even tying the bonuses of top management to sustainability targets.
Measures for a climate-neutral production apply to all industries throughout the entire product life cycle. And it is not just about carbon dioxide, but also methane or nitrous oxide. Company-wide costing will play a decisive role in the implementation of a production that is climate-neutral and at the same time profitable.

Climate-neutral production and climate-related trends such as electrification demand a fully integrated approach to costing. Cost Engineers need a company-wide costing approach that also takes greenhouse gases into account and at the same time provides information on whether manufacturing processes are also profitable.
How can sustainability be calculated profitably?
In the Bill of Materials (BoM) there are different points where greenhouse gases are released. Starting with the raw material, through the individual manufacturing steps to the outward freight.
Read our blog and learn more about the possibilities to calculate greenhouse gases.
Or watch our webinar on-demand about Sustainable Product Costing.
---