A truly tangible, measurable competitive advantage! That is what manufacturers who achieve best-in-class performance for cost estimating and quoting have when compared with those who lag behind.
What is the fundamental difference? Leaders treat cost estimating and quoting as mission critical, enterprise-class functions within their organization. Laggards do not.
Figure: From Laggards to Leaders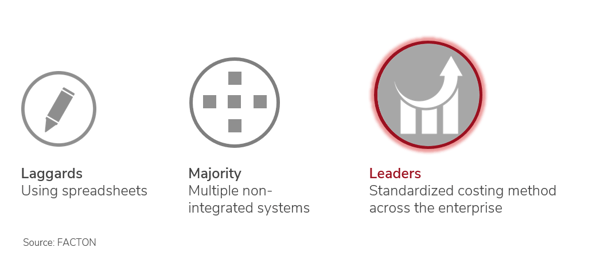 What does it mean to be considered mission critical?
First and foremost, it means the company recognizes these functions as extremely important to its ongoing success. Any interruption in cost estimating and quoting operations could constitute a serious failure – so much so the interruption could endanger its future as a profitable enterprise.
Ironically, many large, otherwise world-class companies still don't give these valuable functions their just due. How can we say that? How do I know if my company gives cost estimating and quoting the recognition and attention it deserves?
Overview of warning signs:
Duplication of effort and wasted time for costing experts
Difficulty finding important historical quotes or tracking revisions to quotes
Dependence on extraordinary personal efforts to get estimates completed
Errors in quotes or too many unsupported assumptions
Difficulty defending cost walks and quotes with customers
Difficulty updating quotes when inputs change (e.g., tariffs on imported steel)
Departments, divisions, and different regions of the world calculate costs differently, with no standardized process.
Disparate spreadsheets need to be updated/maintained every time a quote requires a revision.
In general, you don't have a true enterprise-class software solution supporting costing; no centralized database.
---

How to transform your cost estimating and quoting to an enterprise-class function
For virtually every other mission critical function in the enterprise, manufacturers have access to fully mature software systems to support that function. Finance has ERP, manufacturing has MES, human resources has HCM, purchasing has SCM, and so on. Yet, most companies are not using enterprise-class software for costing; instead, most still rely on desktop software (e.g., spreadsheets) to calculate costs.
You don't see world class companies running global financials or tracking inventory on manually updated spreadsheets. The same should be said about enterprise costing, cost estimating, and quoting!
Centralizing cost/quoting data within a single database is the first and crucial step needed for true quote lifecycle management. That is precisely why our Enterprise Product Costing solution, FACTON EPC, creates a central cost database – one single-source-of-costing-truth – that standardizes these functions across the enterprise with actionable data for analytics and workflow to control your own destiny. Leveraging this solid foundation, manufacturing companies supercharge the costing/quoting process.
Overview of the advantages of an Enterprise Product Costing solution:
| | | |
| --- | --- | --- |
| Centralized cost management database | Virtually unlimited scalability | Automatic version control tracking |
| Automated workflow of assignments and tasks | Dashboards of quote activity | Spend more time evaluating variants in business cases/what-if scenarios |
Working with costing/quoting data in a multidimensional platform
As a standard feature of FACTON EPC, we make your costing/quoting data actionable by delivering it in a multidimensional platform. Simply put, your data is optimized for data warehousing and online analytical processing (OLAP) applications.
This makes it very easy to access, update, and query the data in ways that allow you to make more sound business decisions with data you can trust. We keep seeing customers spending too much time manually processing data, for example when submitting quotations. OEMs are requiring their suppliers to disclose their quotation costs. The corresponding work steps are time-consuming affairs for suppliers. Every OEM has its own quotation templates. Suppliers must align their cost calculations with each OEM's costing scheme and then manually enter the internal cost data into the corresponding template. An EPC solution helps companies break down their costs for customers with system support and automates the transfer of data from the internal cost calculation to the OEM's quotation template.
The advantages for suppliers are convincing all along the line:
Increase process speed: The working hours required to transfer data from the cost calculation to the OEM's quotation template is reduced to a maximum of five minutes.
Ensure data quality: Suppliers transfer internal cost calculation data to the quotation template with the touch of a button, thus eliminating the need for manual data transfer.
Keep context: OEM conditions and transformation rules are accounted for during automated data transfer. Technically, the quotation template remains unaltered.
Negotiate with confidence: FACTON EPC gives suppliers reliable data for their negotiations because margins are secured, negotiation results can be shared in a structured way and change requests remain clearly traceable.


In summary, world-class costing and estimating is only possible when everyone involved in every aspect of the costing and quoting process can access and update the same database. The result is more accurate information with less errors – and, the ability to create and compare a myriad of business scenarios and cases over the life of the products, programs or platforms you are quoting.
READ MORE: