e.GO is an e-mobility start-up from Aachen and one of the youngest manufacturers of electric vehicles in Germany. Founded in 2015, the company and its team are working on cost-effective and customer-oriented electric vehicles for short-distance travel. The series production is implemented by e.GO Mobile in an Industry 4.0 plant in Aachen.
The company decided in 2019 to use the FACTON EPC Design Costing Software for its cost calculation and was a guest at the FACTON Cost Smarter Conference in Potsdam, Germany. In the video Christopher Rösner, Senior Manager Product Cost Controlling of e.GO Mobile AG, talks about his impressions and insights from the FACTON user conference and explains the advantages of the EPC Design Costing solution.
The use of the FACTON EPC solution targets the simplification of calculation processes:
Define authorizations for access to calculations.
Implement coordination processes and versioning in a structured manner in one system.
Track systematically changes made in calculations.
How does an EPC solution support cost calculation?
Enterprise-wide cost solutions support companies in the phase of product development, in product cost controlling, in negotiations and in the optimization of purchasing processes. Benefits and advantages at a glance:
Product development: Control and optimize costs with one software and consider the return on investment over the entire lifecycle.

►

The portfolio and investment management are target oriented.
Cost controlling: Continuously analyze and simulate costs with an integrated solution and evaluate them in reports.

►

Target costing is optimized.
Negotiations: standardized calculation and work processes as well as uniform specifications lead to a lower error rate in

►

calculation of margins,

►

analysis of cost drivers and

►

evaluation and control of change requests.
Purchasing processes: Maintain product cost and master data centrally without duplicate effort in a single source of truth.

►

No manual post-processing and additional data screening.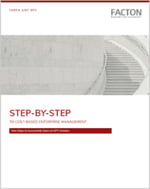 Step-by-Step to Cost-Based Enterprise Management. Use our checklist to find out how to successfully select software for product cost management in nine steps.