The difference between success and failure in software implementation sometimes lies in a few strings of code. It is not a pleasant topic for a software provider to talk about, but it happens: Software projects do not always go smoothly – nor are they implemented or even completed successfully every time – for providers and customers. Examples such as the failed rollout of an ERP system at food discounter Lidl or the expensive software migration at the German oil and additive specialist Liqui Moly are cases in point that show how dramatic the impact can be – projects must either be stopped or expensively "fixed" after the fact.
The list of different reasons why projects fail is very long. It is often difficult to identify at a later time exactly what went wrong; it took seven years before the Lidl project was stopped. The reasons can range from too tight deadlines and varying expectations to modification of basic functions in a standard solution or even because of low acceptance of the new solution among employees.
As a software vendor, we see three prerequisites for the successful implementation of Enterprise Product Costing software:
Adhere as Closely as Possible to a Single Software Standard
Rely on a Strong Project Management Team
Make Users Aware of the Changes and Implement New Processes Consistently
1. Adhere as Closely as Possible to a Single Software Standard
If a standard solution meets the requirements of quotation calculation and product costing, projects can be started quickly after the provider has been selected. Coordination and implementation work is reduced considerably if the standard is maintained. The standard solution offers the user the necessary flexibility for future organizational development. In many cases standard software can be adapted to the company-specific requirements with minimal changes in configuration or an interface is added to the software to meet the necessary requirements. If major modifications are made to the data structure or fundamental processes of the software changed, the cost and effort for the specific adaptation can become too high. This is especially true when there are changes during this period or when interdependencies and the context are not fully transparent. This frequently leads to the user not automatically being able to use the further development of the software.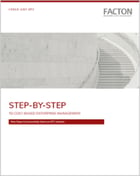 Step-by-Step to Cost-Based Enterprise Management. Use our checklist to find out how to successfully select software for product cost management in nine steps.
Customers of an existing software solution greatly benefit from the extensive testing and documentation of the standard by previous customers. Users take advantage of the provider's expertise, regular software updates and releases as well as the documentation and training material that is already available. After all, implementing a new software solution also means learning a new system and getting used to a new environment.
2. Rely on a Strong Project Management Team
Every IT project benefits from having a responsible project manager at the customer and the provider. The project managers are the interfaces between the individual business units; they consolidate communication and bundle tasks. The provider's project management team coordinates with the customer to put together a project plan with a timeline and deadlines. The specifications are also documented, e.g. the deviations from the standard solution and special requirements. The project manager supports the implementation phase with software tests and, if requested by the customer, through training. This very transparent project management and the direct contact provides reliable guidance and a trusting working environment for both the customer and the provider.
3. Make Users Aware of the Changes and Implement New Processes Consistently
Product costing software supports work steps by rapidly calculating costs and safeguarding the quality of calculations. But software does not transform everything at the touch of a button. Regardless of which enterprise software is introduced, this inevitably leads to changes in a company's own processes – unless a customized software solution is used. Ultimately, this is also a good thing as changes provide an opportunity to question old processes and consider new ideas.
Enterprises can only achieve their process and quality improvement targets for costing if the software application is internalized by all employees. If some employees continue to work in spreadsheets or a different system, then there is too little acceptance. Workshops, training sessions or discussion forums support the change process – open questions can be addressed and testimonials on the costing solution shared. This reveals any weak points while also making the positive effects of the software implementation transparent. It helps eliminate concerns and strengthens trust in the new way of calculating costs. Clear guidance by management also supports the change process and helps establish new requirements.
Customers should receive more than just a powerful costing solution from their software provider. They should also be able to rely on expertise in product cost management and professional project management for their customer-specific implementation. This provides a basic foundation for the successful implementation of Enterprise Product Costing software.
---

Learn in our video 7 Ways to Win the Costing Game how to calculate faster and more reliably with a company-wide view of product costs.