In the 19th century, the computer science developed. At that time Ada Lovelace was the first programmer to go down in history. Until the 20th century, programming was almost exclusively in the hands of women. Even though the proportion of women in IT has decreased significantly since then, ambitious and committed women still work in this field today. We at FACTON are also proud to have those women in our team. For International Women's Day we've interviewed Forough and Annett, two of our developers.
Why did you choose a job in information technology?
Forough: "The overall objective of the development is growth and excellence in all aspects of human life. I am really fascinated by the technology world since I was a teenager. I think that modern life would be almost impossible without information technology. As technology is constantly evolving, there is always the potential to advance your own career in IT. New opportunities open up every day within different fields and companies."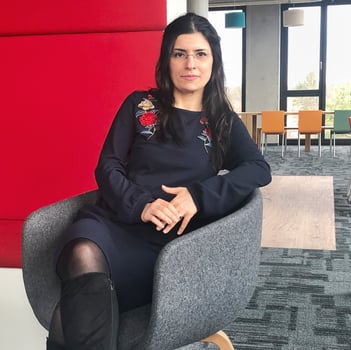 Forough works as a Software Development Engineer at FACTON
Annett: "After the 10th grade I wanted to do a vocational training in a future-oriented technical field and at the same time take one's A levels. In Dresden and the surrounding area Robotron offered the possibility to become a specialist for data processing. I also decided to take this course after talking to my cousin, who had already completed her IT apprenticeship."
What interests you most about IT?
Forough: "The things that inspire me the most are challenges and innovations. In the IT sector, you always have to update your knowledge and learn new stuff. As an IT specialist, my primary goal is to solve problems people are confronted with in the IT field. Finding an appropriate solution gives me a sense of usefullness."
Annett: "Since my apprenticeship and my studies, where I worked with magnetic tapes and punched cards, a lot has changed in IT. New technologies and digitalization are more and more determining our everyday life. This area is constantly evolving and always offers new challenges."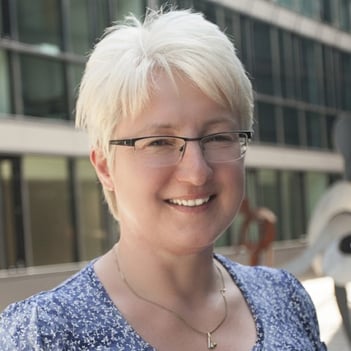 Annett works as a Support Engineer at FACTON
What do you like the most about your job at FACTON?
Forough: "First of all, freedom and flexibilty at work. This includes, for example, the ability to work from home. This provides me with a great work-life balance. The oppportunity to leran new things everyday and then implement them in communication with customers is what makes this job so special for me. You are faced with the challenge of meeting the requirements of your customers. It is not always easy, but I gladly accept these challenges. But my great colleagues are the best thing about my job. We always work together as a team and each of us tries to do their best to achieve the goals."
Annett: "It is always exciting and varied to support our customers and there is always something new to learn. I enjoy working in a great team and I feel accepted and recognized as a women."
How would your job look like if you weren't working in IT?
Forough: "I think being a lawyer would be a challenging task too. You have the opportunity to specialize in different areas, from criminal law to patent law. But if I would be a lawyer, I suppose to have more focus on human rights to support the oppressed."
Annett: "I can't imagine any other job outside the IT industry because this subject has been with me almost my whole life and still inspires me."
Thanks to Forough and Annett for this brief insight.