Companies that "win the costing game" have a highly developed approach for delivering the necessary calculations and data in order to make future-oriented decisions, rather than backward-looking analyses. As a culmination our expertise and research within costing, we have created these 7 key pillars for success in the costing game.

STEP 1: STANDARDIZE CALCULATION METHOD ACROSS THE ENTERPRISE You must drive costing standardization throughout the organization: a standard cost calculation method, a standard cost management definition, a standard reporting methodology, and a standard costing system.

STEP 2: CREATE A CENTRAL DATABASE WITH COST / QUOTE HISTORY
Achieving world class costing requires a central database for cost and quote history, and a method to accumulate all relevant cost data from around the company. The company can store all quote variations in one data set, tracking versions and historical price calculations.

STEP 3: CONDUCT SIMULTANEOUS COSTING
"Simultaneous Costing" is achieved when all departments work at the same time on the same cost calculation. In this scenario, development, product, and manufacturing costs are fully transparent in every phase of the product lifecycle. Avoid serial costing and quoting at all costs.
STEP 4: ENSURE CALCULATIONS CONSIDER LIFECYCLE OF THE QUOTE
The lifecycle of a quote can be up to five years. Analysis considering all costs over an extended time horizon is critical.
STEP 5: SUPPORT INTERNAL AND EXTERNAL COST CALCULATION SCHEMES
For sharing costs with customers: 1) there must be a mechanism to structure the data in an easily digestible format; 2) there should be a direct translation from your cost calculation to your customer breakdown format.
STEP 6: UNDERSTAND HOW EACH CUSTOMER ESTIMATES AND ANALYZES YOUR QUOTE
FACTON recommends using a tool that understands how your customer analyzes cost and gives you the ability to compare against your actual cost calculation. Essentially, we are suggesting that you reverse engineer the customer costing logic. We call this a Shadow Calculation.
STEP 7: ELIMINATE SPREADSHEETS
As a best practice you MUST reduce the proliferation of spreadsheets, and thus reduce the amount of time spent keeping these fragile cost calculators together while at the same time reducing data entry errors. Every department must be focused on the same version of each
cost calculation.
I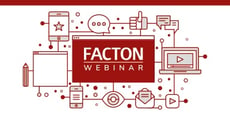 f you want to learn more, have a look on our Webinar-on-Demand about "7 Ways to Win the Costing Game."