For people within enterprises in the manufacturing industry and automotive sectors, a huge challenge has been returning to a healthy and safe working environment while getting their businesses up and running again. And still, we live with the uncertainty of global economic developments (COVID-20???).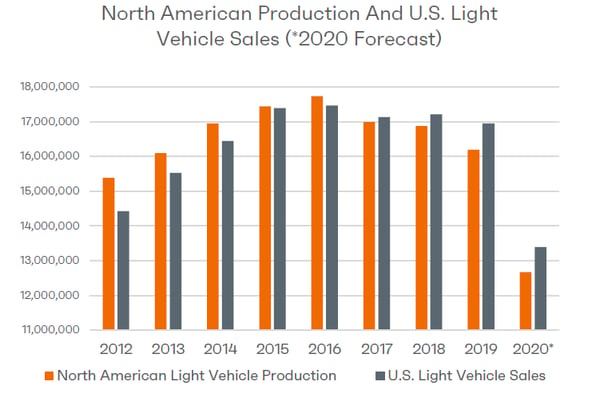 Source: Production and sales forecast of the Alliance for Automotive Innovation in August 2020. State of the Industry Report 8-6-2020
When production shut down earlier this year, supply chains became more fragile, and sales declined. Enterprises needed to burn cash to finance fixed costs and working capital. Volatile forecasts make it difficult to get business and production back on track successful.


---
→ Short review: Due to COVID-19, 93% of total US automobile production was shut down in March 2020.
---
What can be done strategically to positively affect the cost management process in times of crisis like COVID-19?
Manufacturers and suppliers who restarted production with reduced capacities are forced to consider and recalculate additional cost factors and changed circumstances: Under what conditions is production profitable? What are the total production costs for unplanned ramp-down / ramp-up times? How can I effectively manage or affect cash flow in the event of declining demand or longer supply chain times?

With the right cost management plan and the suitable tools, companies can counter the volatility of forecasts by effectively managing more iterations of quotations. Ultimately, the key in a tight economy is to be able to quickly simulate what-if scenarios and make better decisions. Modeling various scenarios that may arise during the lifetime of programs and projects offers every company greater certainty about the accuracy of the quotes.

Imagine reducing the time needed to produce a quote for your customer by more than 40%! What if you could automatically transfer the data from your calculation into the exact formats of OEM customers? This not only saves time, but also reduces mistakes.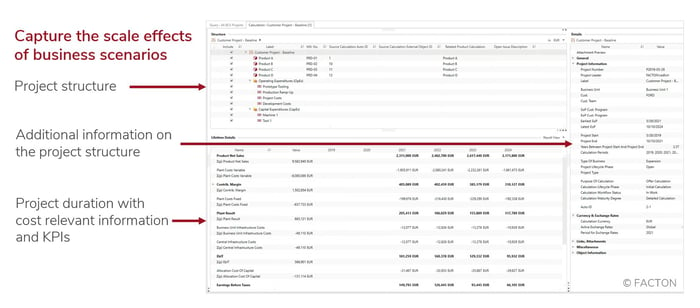 Figure: Find the right business case through cost simulation. View into the FACTON EPC Business Case Simulator; Source: FACTON


What if you could use the extra time you spend on data preparation to effectively model a myriad of potentially changing variables and assumptions? You could immediately see how different assumptions affect your company's KPIs. This allows you to make intelligent, data-driven decisions, far removed from opinions or feelings.

The key to greater profitability: project cost management
One of our customers explained it in a concise manner:
"Accurate product costing is essential for ensuring profitability in the extremely competitive global automotive industry." Wilhelm Baum, Former CEO, BOCAR Group about choosing an EPC solution).
How can companies achieve an accurate cost management overview?
It is all about reducing the time needed for the preparation of quotations, minimizing errors and - this is an important point for customers - increasing trust!

Also, linking information from ERP and PLM systems allows you to achieve more flexibility and greater accuracy in cost calculation and quotation preparation. Most of our customers use the Enterprise Product Costing (EPC) suite solutions along with ERP systems from providers like SAP, Oracle, QAD, Infor, Plex…and PLM systems from companies such as PTC, Dassault/Enovia, Siemens, and others. This enables employees involved in cost calculation and quotation preparation to use a single system and common processes for calculating, managing, and awarding quotations/estimates/projects.

Our solution supports the fast/automatic conversion of quotation data into individual formats of customers. Cost engineers verify time savings up to 60 minutes per calculation.
The ROI is < 1 year – fast and tangible. Implementations typically take between 3-6 months.
We can help to increase profitability. C-Level employees confirm Return-On-Sales increases of up to 0.5% to 1.5%.
EPC solutions helps our customers evaluate the financial impact on product costs as well as help increase the profitability of their companies. We have more than 20 years of experience and a single focus: Product costing.
---
You want to read more?
↓
Download our free white paper and find out why transparent business scenarios are important for management.