How can manufacturers and suppliers of medical devices optimize their costs and make their product portfolio more profitable? Digitized cost management offers potentials to increase margins and profitability. With high product complexity, extensive medical device regulations, global supply chains, and different pricing strategies, efficient structures and processes are needed to position products quickly and profitably in the market. For companies in the medical device industry, we have outlined four ways in which product costs can be managed efficiently.
1. Calculating medical regulations
FDA regulations for the sale of medical device products in the U.S. and new European regulations such as the Medical Device Regulation (MDR) and In Vitro Diagnostics (IVDR) place the highest demands on operations, processes, and safety from the start of product development over the entire lifecycle. The regulations lead to increasing costs for companies. 87% say they have to take products off the market. 51% of the enterprises indicate that in consequence of risen requirements from the MDR the prices for medical products will go up.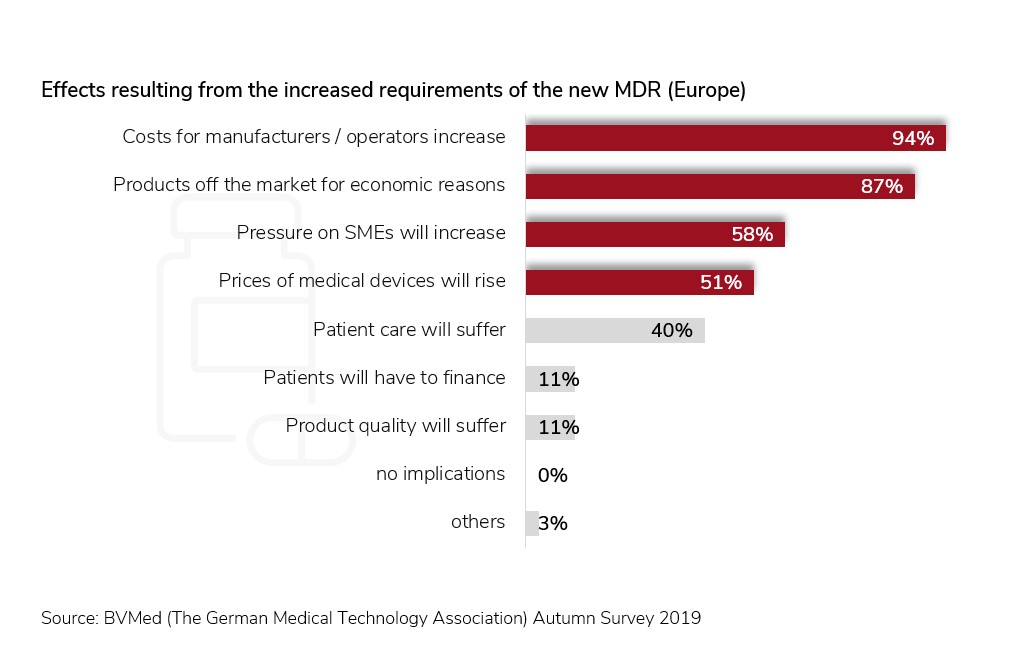 >> Further details on the MedTech market development can be found in the BVMed Annual Report 2019/20. <<
Costs for manufacturers and operators resulting from regulations and reporting must be considered in the lifecycle costing of a product. This enables companies to optimize future products and components better and faster.
>> The most important prerequisite for lifecycle costing is that the product and cost data can be used by all departments and locations across the board.<<
2. Considering design to value and 'target costing' in product development
As in other industrial sectors, companies in the medical technology industry are concerned with the retail-oriented design of their product ranges. This is how products are sold profitably in price-conscious markets. Two points are at stake:
to eliminate additional costs and

to maintain flexibility.




It is not surprising that more and more manufacturers of medical devices want to take product costs into account in the product development process. Using the target costing approach, product development focuses on consistent market orientation at an early stage and can make reliable target cost statements even in the design phase itself.
>> Design a product in compliance with the set target cost by identifying the cost-effective solution for better profit margin. <<



3. Managing the medical devices portfolio profitably
Medical products with a positive contribution margin at the beginning of the market launch, but with persistently high costs for product documentation and sales figures, can lead to losses and negative effects on the company's key figures. What medical products are there that generate low sales and margins? What are the development costs and the costs for maintenance, warehousing, and distribution? What financial effects do the low-revenue products have on the company's capital commitment and devaluation risks?

These questions may not be answered by one department alone, but….
must be coordinated in close cooperation with all departments involved - sales, purchasing, controlling and product development - and

can be answered with data from the product lifecycle and a uniform view of cost accounting.


A company-wide calculation process supports the development of transparent cost structures along globally networked supply chains, with in-house and third-party production and with different pricing strategies. This approach increases the scope for cost optimization: Companies create the prerequisites for identifying loss-making products more quickly and preparing business decisions reliably.
>> Identifying deficient products faster and removing them from the portfolio also means releasing new financial resources for developing innovative products and investing in business expansion.<<
4. Maximize cost saving potentials in purchasing
Variant diversity, product complexity and constantly increasing cost pressure - the purchasing organizations of medical technology companies face obstacles to cost optimization in different ways. The insight is not new: These are the hurdles facing many industrial companies today.

Visit the Society of Cost Engineers blog to read about the importance of cost modeling in the medical industry.

The supplier selection process is the set screw for more cost efficiency. This is where criteria from the supplier self-disclosure, information on certifications, spot checks, product quality and prices from the offers flow in. Potential for cost optimization lie in the early integration of purchasing into the product development process. A strong collaboration enables better evaluation of supplier quotes and a detailed preparation of purchasing negotiations based on the knowledge gained.
Transparent structures are the key to cost optimization
Companies in the medical technology industry achieve an optimum between innovation, product development, quality, and profit if they can track and control costs along the value-added process - from product development to after-sales service. Cost transparency supports decisions at every step of the costing process, over the entire product life cycle and is an essential success factor for cost optimization.